From cosy to cavernous, simple to spectacular, these restaurants around the world offer an escape from everyday life.
E
Eating out is a treat, and with so much time spent at home now, it's a joy to be offered a choice of dishes, to be served, and for someone else to tidy up afterwards. But many good restaurants are about more than just the food and service. Interiors play a huge role, though these days, there is no one-size-fits-all. Whether the environment is cosy or cavernous, restaurateurs are aiming to give diners an experience to remember. These are the places where the mood plays a key role. "I have huge admiration for transportive restaurant atmospheres," says Rafael de Cárdenas, founder of New York studio Architecture at Large. "I like a dining experience that feels completely divorced from day-to-day life."
More like this:
-        The maverick Brits with unique homes
-        Why change is the key to a good life
-        What does a 'life of luxury' really mean?
In his role as judge of the Dezeen Awards 2020, De Cardenas has been poring over this year's restaurant entries. Now in their third year, these awards are organised by the high-profile architecture and design website, Dezeen, and feature projects from around the world. The restaurant category comprises venues which the judges deem beautiful and innovative. To set the mood, these places are employing beautifully-crafted local materials, subtle lighting, clever lay-out and warm colour palettes, alongside ambitious menus.
Voisin Organique in Shenzhen serves cuisine created with ingredients from its own farm (Credit: Various Associates/ Dezeen Awards 2020)
The successful concept restaurants of today are a far cry from the heyday of the overtly 'themed' destination. Nowadays, top chefs impart their vision to their designers, whose poetic (rather than literal) interpretation conjures up an ambience to complement and even enhance what's on the plates. "They're all very focused concepts with a lot of identity and attitude," says designer Alex Mok of the shortlisted restaurants in the Dezeen Awards 2020. She and her co-jurors were struck by an eclectic mix of venues, ranging from a Buddhist restaurant in Seoul, a 'holistic' cuisine offering in Copenhagen, a Japanese venue in Shanghai, and a contemporary Chinese farm-to-table restaurant in Shengzhen.
Mok notes that in many of the shortlisted venues, "there was extensive exploration of a story, a place, culture or tradition". She points to South Korean Buddhist restaurant Doosoogobang as "a perfect example of how to showcase the traditional in a modern way". The kitchen is run by, JungKwan, a monk who has become famous as a TV chef. Her recipes follow the strict Korean Buddhism discipline – no meat or condiments such as garlic, onions and chives – but are nevertheless packed with flavour.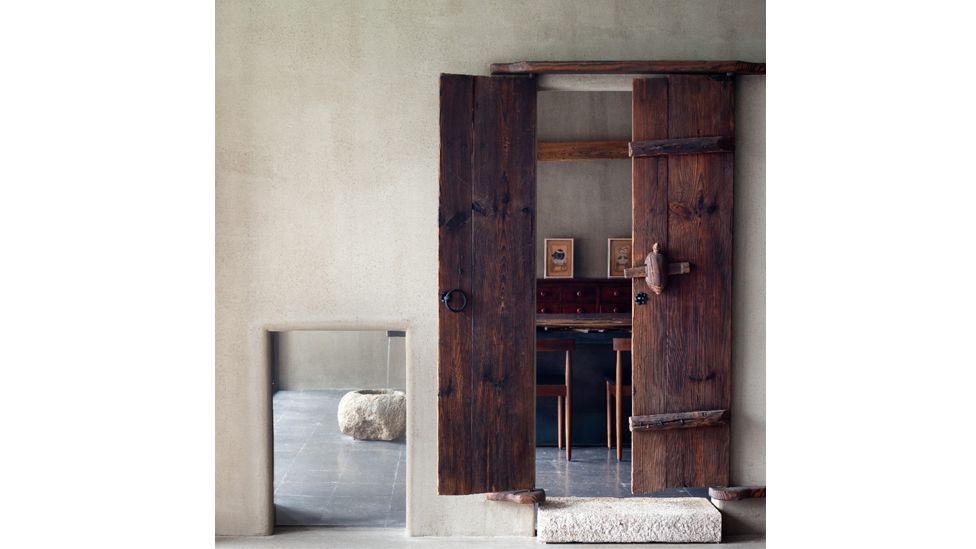 The Buddhist restaurant Doosoogobang in Seoul has a peaceful ambience (Credit: Studio Lim/ Dezeen Awards 2020)
For its customers, Doosoogobang is set up to be both cosy and traditional. "I think people get comfort and relaxation through the elements of nature and oldness, especially in this age, when so many stimuli of information, vision and sound are everywhere," designer Taehee Lim tells BBC Culture.
Diners are taken on a journey, through the menu and also through the space
In drawing on nature, Lim used materials "you happen to find when you're travelling deep in the mountains of Korea". Diners are surrounded by furniture, fixtures and fittings made of wood, granite and paper (because "its texture provides a warm and absorbing welcome"), and calming colours, including grey, brown and beige. He's even brought in old, traditional cookers and furniture, in order to "reimagine the humble lives of Buddhist monks".
Diners can find bigger venues less personal, but at Doosoogobang they cosy up in a series of snug zones, which are connected by small gates. They can even chill out in a private meditation area. So a night out here is about being on a journey, through the menu, and also through the space.
Likewise at a 'holistic' dining venue Alchemist restaurant in Copenhagen, the diners' physical journey through the venue is a significant part of the experience. "Chef Rasmus Munk has built the restaurant around the food," explains designer Mike Duncalf of Studio Duncalf. He admits the Alchemist's building – a former industrial warehouse – is oversized for the 42 covers. But that "gives us more space to create the experience", he says.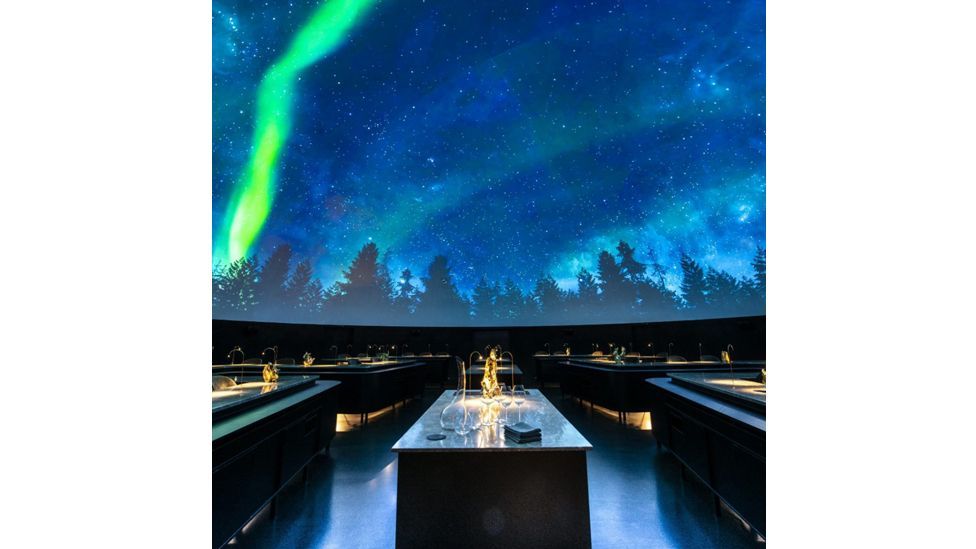 Mesmerising images are projected on to a huge dome at the Alchemist, Copenhagen (Credit: Studio Duncalf/ Dezeen awards 2020)
"Rasmus is taking people on a culinary and physical journey, to keep people moving. We've tried to make it intimate, like a series of a small restaurants, rather than a warehouse," Duncalf explains. Hence the installation of three separate levels. Diners first enter a gallery space, with a digital ceiling and an oak floor in a steel grid. Then they move via a gently sloping ramp through the 10,000-bottle wine cellar into the first bar space. This has views into the test kitchen, and here they have small, intensely-flavoured courses. Afterwards, they go upstairs, along a glass walkway into a space with an 18-m-diameter dome clad in perforated steel, with a flooring of black epoxy.
'Mesmerising experience'
Most of the dining takes place under this vast dome, and on to it are projected moving images in keeping with the theme of that evening's menu. A lift then takes diners to a bar, which appears to be floating above the dome. With its comfy armchairs, the space has the traditional feel of an old-school smoking lounge. "It's an opportunity to calm down after a mesmerising experience in the other areas," says Duncalf. After their three-or-four-hour extravaganza, diners depart through a door that's 'hidden' in the brickwork.
Dining out has also got experiential in Shenzhen. Here, the contemporary restaurant Voisin Organique – also on Dezeen's shortlist – cooks traditional Chinese cuisine with ingredients grown in its eco-certified farm. The designers at Various Associates aimed to recreate a conceptualised version of picnicking in a mountain valley, where the 'valley' sits between suspended ceilings. The atmosphere is all the more other-worldly because of the warm, dark hues chosen by designers Various Associates.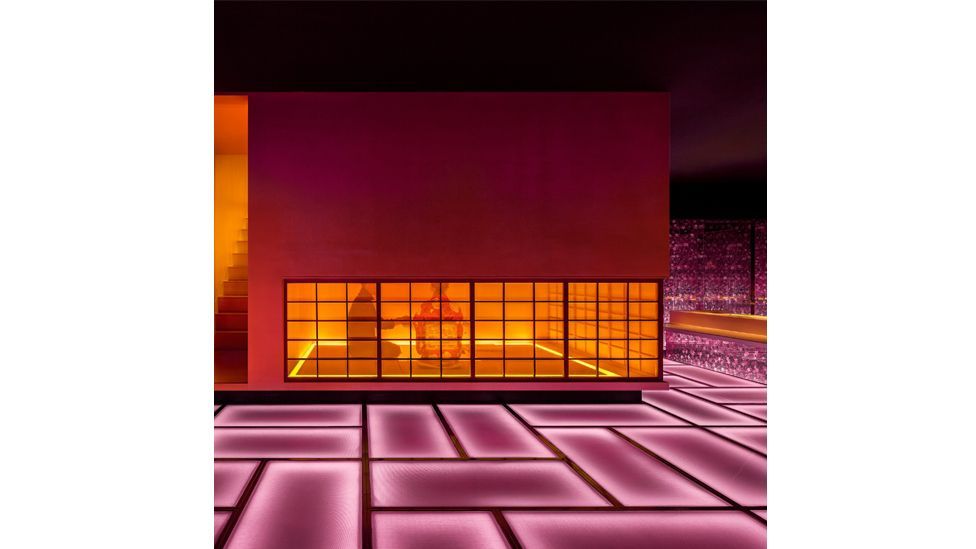 Shanghai's Omakase Kaiseki Cuisine is saturated with pink lighting (Credit: Hip-Pop Design Co/ Dezeen Awards 2020)
Such a reworking of history and tradition is also key in the design of Shanghai's Omakase Kaiseki Cuisine. This place fuses the Japanese tradition of letting the chef choose your order, with a traditional Chinese multi-course dinner. Shanghai Hip-Pop Design Co aimed to create a romantic mood, and conceptualised the design around Japan's national flower, the cherry tree (sakura). Designer Tianwen Sun suggests the falling of cherry blossom or "sakura rain", through a saturation of pink lighting.
A dining experience that can transport us beyond everyday tribulations is welcome
Along with the Dezeen shortlisted venues, there are many other restaurants around the world that are creating unique dining experiences. Among them is Le Pristine in Antwerp, where the town's artistic tradition helps set the mood. Situated in a 1960s modernist building, and headed up by three-Michelin-star chef Sergio Herman, the menu is an ode to Italian cuisine. But the aesthetics reference the Belgian city's place in the art world. 
"From the outset, we were fascinated by the renaissance architecture, history and the artists from the region, and the way they depicted rural and rudimentary settings, people eating, enjoying a meal with a sense of humbleness," says Peter Bundgaard of design firm Space Copenhagen. This informed how he envisioned Le Pristine's social experience. "The restaurant has been designed with a sense of slow aesthetics as a vehicle for modern social encounter in Antwerp," he adds.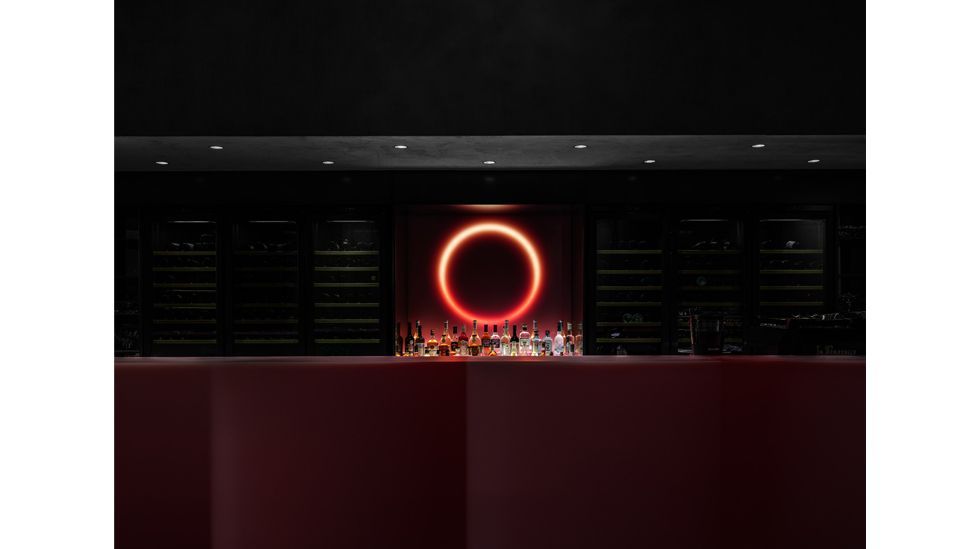 Le Pristine in Antwerp references art by the Flemish and Dutch masters with its warm hues (Credit: Le Pristine/ Peter Paul de Meijer)
For the colour palette, Bundgaard's co-designer Signe Bindslev Henriksen referenced the great Flemish and Dutch masters. Hence the "warm rusty reds, milky black, sand and grey tones". Meanwhile diners sit among textiles and furniture created by local artisans.
Le Pristine is among those new venues which are unexpectedly low-key in appearance, and use traditional techniques and vernacular styles. Others combine these traits with being bijou in scale. "We love the smaller restaurants that offer authenticity, warmth, a sense of ease and intimacy," says Mok of the Dezeen awards.
When eating at Kakurega Omakase on Mexico's Pacific Ocean there are just 12 diners at any one time. Designed by TAX Architects for Hotel Escondido, Kakurega means hideout or refuge in Japanese and is similar to the Spanish word 'escondido', meaning hidden. In keeping with Hotel Escondido's thatched-roof bungalows, TAX Architects gave the restaurant a vast natural covering of palapa, a traditional construction method in the Oaxacan region which involves layering palm branches on a wooden frame. To add a Japanese element, the beams are blackened using a traditional technique from that country.
The outdoor Kakurega Omakase on the Pacific coast of Mexico is a thatched refuge (Credit: TAX Architects/ Sergio Lopez)
Marrying two cultures in a single interiors is another challenge. But for his new venture Pantechnicon, Barry Hirst has brought together Japan and the Nordic region at one London address. Despite the global concept, the atmosphere is aspirational-domestic. "It's about making a space that you'd like to have in your home," says Hirst.
Visitors pick up a sense of domesticity from designer Darryl Claxton's choice of Nordic rugs and hand-printed screens, which soften the light. "If it's too bright, it's fast foody," he says. "Soft lighting is more homely."
Generously-spaced restaurants, like Pantechnicon and Alchemist, are better-placed to deal with the current need for diners to maintain their distance. Snugger venues must adjust accordingly. Whatever the limitations, Bundgaard of Space Copenhagen feels strongly that dining out is not going to go away. "Rooted into the depth of our human fabric we have a fundamental need to socially interact. Having a meal as a ritualistic gesture is one of the oldest manifestations of this need, and this will not change."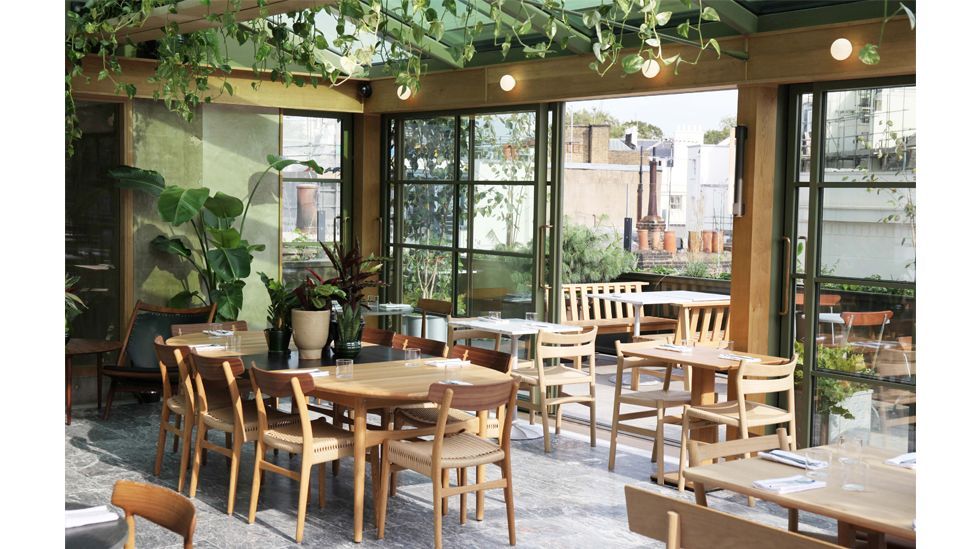 Pantechnicon in London seeks to create a homely, domestic mood (Credit: Pantechnicon)
We yearn for this collective experience, even during a pandemic, he believes. "The notion of enjoying company, for a moment escaping the rudimentary patterns of a normal day, applying layers of laughter, sensuousness, intoxication and other degrees of social engagement and enjoyment will always be the framework of the restaurant." And a dining experience that can transport us beyond everyday tribulations is all the more welcome.
The Dezeen Award 2020 winners will be announced in November.
If you would like to comment on this story or anything else you have seen on BBC Culture, head over to our Facebook page or message us on Twitter.
And if you liked this story, sign up for the weekly bbc.com features newsletter, called The Essential List. A handpicked selection of stories from BBC Future, Culture, Worklife and Travel, delivered to your inbox every Friday.